Fact 1 - I like cooking.
Fact 2 - I like my cooking.
Fact 3 - I am told that others like my cooking.
ok..ok.. Now that we have established that, lets move on shall we?
Fact 4 - I can only cook veg. dishes.
Fact 5 - I love sharing recipes.
Fact 6 - I like learning new dishes.
Fact 7 - I can make North Indian, South Indian, Chinese, Italian, Thai...ummm that's all I can remember right now.
And NO! Fish is not vegetarian thanks.
So, finally to vent my "Masala Venom" I have decided to launch a new blog called "
What's Cooking?
". I will try n post pics and recipes of things that a student, overseas n away from Mommy's cooking, dares to conjure in her kitchen!!
Do peek in from time to time and say "Hey!"
---------------------------------
Also, posting another pic of my cute Shiru on Kaush's request.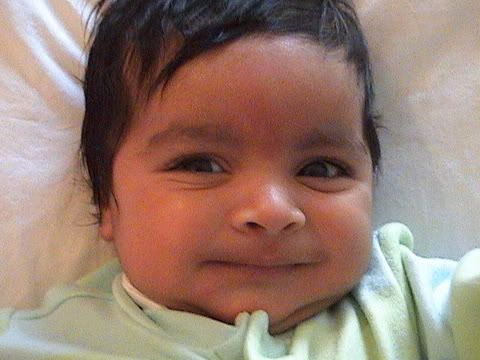 :D He looks quite naughty to me already.... the cutie is just over 3 months old!